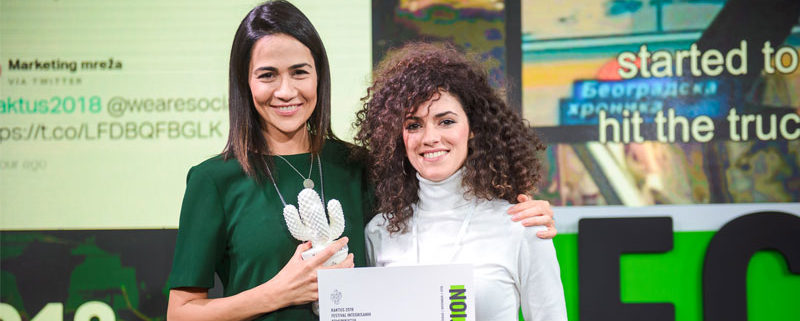 Direct Media
Na četvrtom po redu Kaktus Festivalu integrisanih komunikacija, pod nazivom "Idea is nothing without execution" u okviru organizacije portala Marketing mreže, Direct Media Srbija osvojila je još jedno priznanje u kategoriji Pojedinačni radovi – Viralni video za kampanju "Čuvaj se!".
Kampanja koja je realizovana zajedno sa Savezom paraplegičara i kvadriplegičara Srbije, proglašena je za jednu od najkvalitetnijih pojedinačnih integrisanih kampanja u 2017. godini.
Ovogodišnje KAKTUS nagrade uručene su odlukom stručnog žirija iz naše zemlje i regiona, među kojima je bila i naša Voljena Daničič Head of Creative.
"Ideje bez egzekucije su greh. Bez preterivanja. Sjajna ideja, ako nema sjajnu egzekuciju, pa to je neoprostivo. To je bačeno i vreme i trud i na kraju krajeva, gubi se smisao, jer ideja neće postići ono zbog čeka je i nastala.
Sjajni radovi uvek imaju sjajne prijave, nema tu velike mudrosti. Ukoliko imate šta da kažete, onda sam sigurna da nemate problem kako to da kažete. Ukoliko ne znate kako da kažete, onda vrlo verovatno nemate kampanju vrednu Kaktus nagrade. Moj fokus će biti na suštini. Gledaću celokupni utisak. Kampanja mora imati početak, sredinu i kraj. Da bude zaokružena priča. Priča sa smislom, a ne priča za festivalsku nagradu. Nagrade treba da budu posledica, a ne cilj, pa tako sve kampanje koje su napravile iskorak, kreirale nešto konkretno i primenjivo, su moji favoriti."- izjavila je za Marketing mrežu, Voljena Daničić Head of Creative Direct Media.
Čestitamo našem Kreativnom odeljenju i svim dobitnicima!