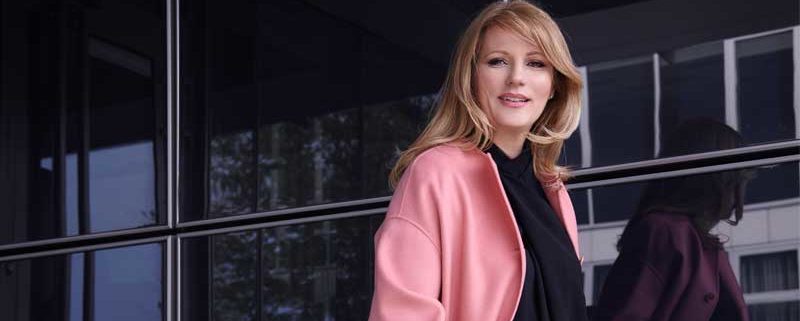 Diplomacy & Commerce
Our focus is on innovative thinking, fresh perspective and creative expanse which are much needed in this new age marketing!
 Jasna Dugalić, Deputy Managing Director in Direct Media, gave an interview for Diplomacy&Commerce
What trends are you seeing on the regional market? What does your data show about the economic recovery and consumers' standard of living?
After the continuous but rather modest growth of the region's overall advertising market over the past few years, we can say that the forecasts for 2018 are somewhat predictable, and the growth trend is expected to continue. Individually, the biggest decline was felt in the Montenegrin market, which saw the investment dwindle 20%, followed by the markets in Croatia and Albania, where advertising dropped by around 2%. Macedonia felt the biggest increase in advertising investment at around 9%, preceding Slovenia at around 8% and the Serbian market at around 3.5%. Croatia had the biggest share in the region's total advertising despite the decline, while Slovenia continues to boast the highest gross domestic product per capita.
How fast is the structure of communication channels in our market changing, between traditional and digital? Why is TV still king, even though we all think we're online?
Despite the fact that investment in digital is growing, our reality is also that television's share in regional media budgets remains high — around 56%.  The consumption of this media isn't subsiding, and most people living in the Adriatic region watch television more than four hours a day on average. Albania and Bosnia and Herzegovina are leading with around five and a half hours spent in front of the TV screen every day, Serbia claims third place, while television is least watched in Slovenia, similar as in Montenegro.  When it comes to digital's growth, unlike in more developed markets where the investment is extremely high — around 39% on average in Europe — here it stays low. However, we must bear in mind that 14% of the region's total media budget on average went to digital in the previous year, which is indeed a shift compared with four or five years ago, when that budget was almost nonexistent. Europe's markets are now growing at a single-digit pace, while our market grew by 25%, which indicates that digital is yet to grow here.  We adapt our strategies to trends, but many real-world examples from our work with clients have shown that ROI is still in focus and that we can't just blindly follow any one trend, but instead we need to find the most effective way to secure return on investment for each client and its brands.
The average internet user is estimated to be exposed to more than 4,000 ads during the day. How do you make sure that your client's message is seen by the targeted consumer?
We find the appropriate channel for the message and act in time, in accordance with the campaign type, the media consumption habits, and the data obtained from the platforms available to us. Choosing the channel and the format is crucial in a digital campaign, as is the overall content strategy. Our Digital department is made up of professionals who brought programmatic advertising to the market. In addition to running digital campaigns for some of the biggest national and international clients, they have been selected by IAB Serbia and IAA to teach digital marketing, and they further their own knowledge through professional development. This speaks to their level of expertise, as do the awards that we win at events focusing on achievements in the field of digital advertising.
How does the entrepreneurship project Super Srbija (Super Serbia) fit in these trends?
Stories about the average Joe who was brave enough to embark on the entrepreneurial adventure have been winning over viewers and consumers for three years in Slovenia through the Štartaj Slovenija (Go, Slovenia) project, and this year also in Serbia through the Super Srbija (Super Serbia) project. Having achieved excellent results in encouraging entrepreneurship and successfully bringing together several partners in one project, the project that has been raised in Slovenia to the level of a project of national importance serves as a great example of innovative brand communication in the changed media landscape. In partnership with Formitas, our Ljubljana office took part in the unique project, which entered its third season, along with POP TV and SPAR. The project involves television as the chosen medium to present entrepreneurial stories through a new TV format, as well as intensive communication on social media and the point of sale itself. The idea is to introduce small entrepreneurs to a big market and give them an opportunity to become permanent suppliers of a large supermarket. Consumers are also involved in the story since their purchasing of products determines favorites and secures shelf placement. All the partners invested extraordinary efforts and their strongest resources and demonstrated that exceptional trust between the agency, the client, and the medium can also yield exceptional results with the target audience. We expect the project to have the same success in Serbia, too.
Statistics and mathematics have been built in your work from the very start. You recently launched the Data Science department. What is the extra mile that your new colleagues will be able to offer?
We believe that Data Science will be the first step in transforming the way we create campaigns and strategies in our system. At a time when the need for using and interpreting large amounts of data is on the rise, we want to bring our clients new value through analyzing advertising data, creating new services related to data analysis, and creating new platforms for understanding and communicating with consumers. The return on investment in the media is what Direct Media is known for, in addition to efficiency and precision. "To make value from data" will be the motto of the data expert team of the newly formed department, whose work will certainly be based on the Science and Art concept, which includes a combination of mathematically precise but also creative use of media or data. This pioneering venture will have a foothold in our system's mission, which compels us to always find optimal solutions for our clients' businesses — and the entire industry — to grow in a dynamic communication environment. We hope that this move will guide other agencies in understanding the importance of data.
How important is education for monitoring changes in your field? What is DM Academy's place in professional development?
Our perception is that industry needs people who are aware that they need to have a broad range of marketing knowledge that is rooted in not only the traditional approach but also in personal development, which is one of our system's values. Last year we held the ninth Direct Media Academy, which was open to everyone. Our employees who run the modules prepare for this educational program throughout the year by building on their knowledge, and with no false modesty I will say that DM Academy pushes the envelope when it comes to the profession, placing the focus on innovative thinking, fresh perspective, and creative expanse, which are much needed in this new age marketing. No matter how much we want or need it in this business of ours, we can never foresee the future to the last detail, but we must be prepared to face it by continuing to work on ourselves through education.