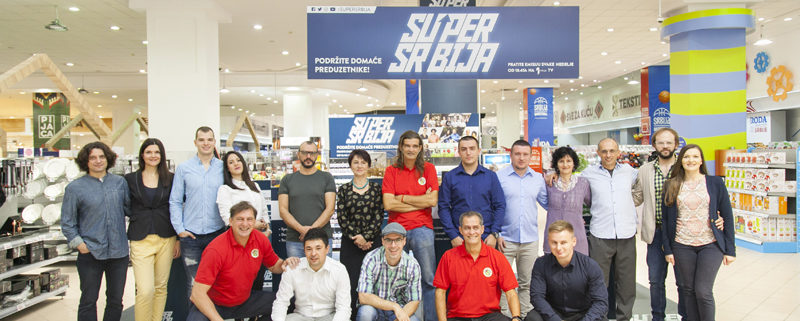 Direct Media
We can do a lot on our own, but we can do anything together!
 After months of preparations, the products of eight small entrepreneurs hit big megamarket shelves to kick off the one-of-a-kind "Super Srbija" project. The project was initiated by Direct Media and RODA and designed to support the country's entrepreneurs.
As of October 21, PRVA will be airing the "Super Srbija" show every Sunday at 6:45 P.M. to offer a glimpse into the entrepreneurial journey "from idea to shelf." In order to properly prepare their products for the shelves and later on promote them, the entrepreneurs are provided with maximum professional and moral support, and the products that win over consumers and viewers during the three months of "Super Srbija" will secure their place on the shelves even after the project ends.
"We want to use the fresh, innovative, and operative concept of encouraging entrepreneurship embodied in "Super Srbija" to draw focus on these enterprising people who are Serbia's creative and entrepreneurial force and to help them on their path to success. We have families, married couples, and one social enterprise, and all of them are provided with not only the all-important professional support, but also the publicity they deserve, with the aim to make the audience know and love their products. The project's central message is that while we can do a lot on our own, we can do anything together," said Marija Bahri, Direct Media's Business Development Manager.
Mercator's Marketing Director Matija Protić said: "Every product that appears on Roda's shelves within "Super Srbija" is a result of the creativity and dedication of Serbian entrepreneurs. Their commitment is best evidenced by the time and effort they invested together with our experts so that their production facilities and the products themselves meet all the standards and ultimately reach our shelves. We are very happy that today we can offer these unique, high-quality products to our customers. Our customers are those who actually have the final say — by buying the products they support the Serbian entrepreneurs who earned their big break through Super Srbija."
Starting on October 8, selected RODA megamarkets will feature a special "Super Srbija" shelf that will stock the products made by the eight entrepreneurs who took part in "Super Srbija":
Natural stick deodorant (peppermint, vanilla, lavender, lemon) – "Freshka gora"

Dog accessories kit – "Kiki Pet Accessories"

Honey with added ingredients (blueberries, raspberries, nettle seeds, cocoa powder, chia seeds) – "Zlato u tegli"

Roasted pickled peppers – "Radanska ruža"

Construction play set – "Archiplay"

Chili sauce, tomato sauce, smoked dried tomatoes in olive oil – "Fatalni začini"

Hard cheese, sage cheese, lavender cheese – "Sirana Jovanović"

Craft beer – "Razbeerbriga"
The idea for the "Super Srbija" project was born from the partnership between Direct Media's Ljubljana office and Formitas, which have been implementing the project in Slovenia for three years.  Thanks to the results, "Štartaj, Slovenia" has become one of the key communication projects in Slovenia in the last two decades and risen to the level of projects of national significance, winning many regional and international awards.
Follow "Super Srbija" on social media: