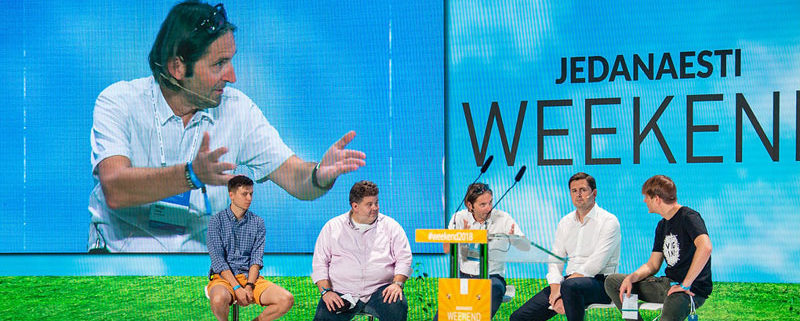 Direct Media
Taking place in Rovinj from September 21 through 23, the three days of this year's Weekend Media Festival were packed with myriad debates, lectures, and panels attended by people from our company.
(R)evolucija agencija (Agency (R)evolution), attended by Direct Media Slovenia's Managing Director Mitja Tuškej, was brimming with examples of the most innovative, offbeat communication projects from the region and the world.  Štartaj, Slovenija! (Go, Slovenia!), developed by Direct Media's Ljubljana office and partner agency Formitas, kicked off the panel as an example of new communication in the altered media and market landscapes.  Bruketa&Žinić&Gray's Creative Director Davor Bruketa, Publicis Group's CEO Anđelko Trpković, and Degordian co-founder and CEO Daniel Ackermann talked about how abandoning traditional models brings about novelties in the agency business, where survival is accomplished by neither the strongest or the most intelligent, but only those willing to change.
Go, Slovenia! is unique in several aspects. One is certainly that the project interconnected three partners in the triangle agency–client–medium. The partnered joined forces and invested extraordinary capacities and their strongest resources to demonstrate that exceptional confidence can yield exceptional results. The campaign's primary goal was for Spar — as a big advertiser in an extremely competitive marketplace — to build an even stronger market position among young people. Working with young entrepreneurs showed us that they have strength, confidence, and high self-esteem and that they can achieve results when we give them a chance.  The fact that the project is in its third season speaks to the results on the client side," said Mitja Tuškej.
Goodbye, Mr. Sorrell?!, this year's closing panel, was attended by Direct Media's Chief Operating Officer Jovan Stojanović. McCann Adriatic's CEO Vladimir Dimovski, Pristop skupina's partner and BoD member Sašo Dimitrievski, Imago Ogilvy's Managing Director Damir Ciglar and our own managing director tried to answer whether advertising agencies are threatened by their own obsolescence or emerging competition in the form of consulting firms and how much is the region's advertising on a par with global trends when it comes to transforming business models.
"Agencies that are rooted in strong media expertise, such as media agencies, have a far greater advantage and are least at risk of the emerging changes. We as a system have been outside the comfort zone for a long time now, virtually since we started, because we have been constantly evolving over these 17 years. We grew from a media agency into a system with a full service portfolio, and our creative department — our youngest branch — won awards at this year's Balcannes. This indicates that our transformation is an ongoing process that effects results. Data Science, as the word of the year in marketing, does not mean much if there are no people in the agencies who are able to read these data. I think that the key is the synergy of people — those who are mathematicians and those who are creatives and psychologists. The balance between Science and Art has always been our commitment and our starting point for transforming processes, as well as developing people and departments at Direct Media," said Jovan Stojanović.